CONGRATULATIONS!
Congratulations too the collective winners of $30,000 in our anniversary promo! We appreciate everyones business!

We're also doing another draw for $10,000 from December 14th to December 31st! Buy / Sell / Trade wish us to be entered to win
ATOMIC AUTO - ATOMIC AUTO
COREY RISLING - SASATOON MOTOR PRODUCTS
CURTIS MERRYFIELD - MAINLINE GM ROSTOWN
DAVE DASH - DODGE CITY AUTO
FIRST AUTO - FIRST AUTO
GERALD MERRYFIELD - MAINLINE GM WATROUS
GORD PIDDE - NORTH BATTLEFORD HYUNDAI
JAMES KRAWCHUK - DRIVING FORCE SASKATOON
JASON DELISLE - DICOUNT
KEVIN MENARD - GREENLIGHT AUTO
KEVIN ORCHARD - DRIVING FORCE EDMONTON
MARK DOELL - MANN NORTHWAY GM
MIKE NEULOS - O'BRIANS SALES & LEASING
NORTH FEHR - QUILL PLAINS GM
RALLY AUTOMAX - RALLY AUTOMAX
RICK IRONSIDE - REGAL MOTORS
ROB BERRY - SLAVE LAKE CHRYSLER
RYAN SMITH - SMITH & HUGHES
SHERWOOD CHEV - SHERWOOD CHEV
SOUTH 20 DODGE - SOUTH 20 DODGE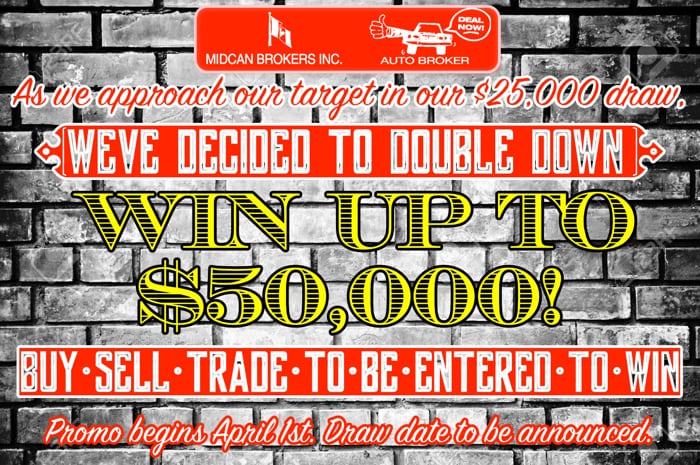 SILVER ANNIVERSARY
CELEBRATION EVENT!
BUY / SELL / TRADE WITH US TO BE
ENTERED TO WIN UP TO $50,000!
EVERY UNITS COUNTS!
It's our way of saying thank you for the past 25 years of business.
Promo begins April 1st. Date date to be announced.
- - - - - - - - - - - - - - - - - - - -
CURRENT ENTRIES AS OF OCTOBER 13 2017 @ 1:17PM

137 DEALERS - 2577 ENTRIES

63 DEALERS OUT OF PROVINCE
47 DEALERS IN RURAL SASK
27 DEALERS IN SASKATOON
- - - - - - - - - - - - - - - - - - - -
A-A-C, VANCOUVER BC - 28
ACURA OF SASKATOON, SASKATOON SK - 3
ATOMIC AUTO, SASKATOON SK - 9
AUTO CLEARING CHRYSLER, SASKATOON SK - 5
AUTO MAXX, CALGARY AB - 2
BAND CITY AUTO, MOOSE JAW SK - 4
BARLOW MOTORS, SASKATOON SK - 4
BENNET DUNLOP FORD, REGINA SK - 7
BIG WEST DODGE, DRAYTON VALLEY AB - 1
B P, WASHINGTON - 19
B S C, WASHINGTON - 5
BOWMAR SALES, TISDALE SK - 1
BRIDGE CITY AUTO, SASKATOON SK - 1
CANADIAN FLEET SERVICES, WINNIPEG MB - 7
CAPITAL FORD, REGINA SK - 5
CAPITAL GM, EDMONTON AB - 3
CAPITAL GM, REGINA SK - 10
CAPITAL USED, SASKATOON SK - 1
CARLTON HONDA, PRINCE ALBERT SK - 3
CARS R US, SASKATOON SK - 1
CELEBRTION FORD, MOOSOMIN SK - 21
CHARTRAND MOTOR CARS, ST ALBERT AB - 2
CHEYENNE GM, MELFORT SK - 2
COUNTRY FORD, WILKIE SK - 2
CRAIG DUNN GM, PORTAGE LA PRAIRIE MB - 1
CROSSTOWN MOTORS, ROBLIN MB - 19
CYPRESS MOTORS, SWIFT CURRENT SK - 2
DENHAM CHRYSLER, LLOYDMINSTER AB - 6
DISCOUNT, CALGARY AB - 300
DISCOUNT, TORONTO ON - 30
DODGE CITY AUTO, SASKATOON SK - 37
DRIVING FORCE, CALGARY AB - 1
DRIVING FORCE, EDMONTON AB - 98
DRIVING FORCE, FT SAINT JOHN BC - 2
DRIVIING FORCE, SASKATOON SK - 7
DRIVING FORCE, WINNIPEG MB - 16
DRIVE NATION, SASKATOON SK - 110
DRIVE NATION, PRINCE ALBERT SK - 4
E C, WINNIPEG MB - 135
ECHO VALLEY GM, FT QUAPELLE SK - 8
EDWARDS GARAGE, ROCKY MOUNTAIN HOUSE AB - 1
ENERGY DODGE, KINDERSLEY SK - 2
FERNIE FORD, FERNIE BC - 2
FIRST AUTO, SASKATOON SK - 11
GAUTHIER GM, WINNIPEG MB - 7
GAUVIN MOTORS, SWIFT CURRENT SK - 3
G G, WASHINGTON - 293
GOLDEN MOBILITY, SASKATOON SK - 1
GREENLIGHT AUTO, SASKATOON SK - 15
HALEY GM, SECHELT BC - 2
HERITAGE HONDA, CALGARY AB - 38
HIGH RIVER TOYOTA, HIGH RIVER AB - 1
HUNTER MOTORS, ATHABASKA SK - 1
JACK MALLEY MOTORS, WYNYARD SK - 2
JIM PATTISON LEASING, CALGARY AB - 39
JUBILEE FORD, SASKATOON SK - 11
K AUTO, WARMAN SK - 6
KEY CHEV, YORKTON SK - 29
KOCH FORD, EDMONTON AB - 1
KOOTNEY LAKE AUTO MARINE, NELSON BC - 20
LANDMARK MAZDA, EDMONTON AB - 1
LETHBRIDGE MITSUBISHI, LETHBRIDGE AB - 2
LETHBRIDGE TRUCK TOWN, LETHBRIDGE AB - 7
LLOYDMINSTER HONDA, LLOYDMINSTER AB - 2
MAINLINE GM, KINDERSLEY SK - 7
MAINLINE GM, ROSETOWN SK - 7
MAINLINE GM, WATROUS SK - 8
MAINLINE RV, ROSETOWN SK - 1
MANN NORTHWAY GM, PRINCE ALBERT SK - 11
MCDONALD NISSAN, LETHBRIDGE AB - 2
MCMILLAN GM, KIPLING SK - 1
MCNAUGHT GM, WINNIPEG MB - 2
MCNEIL MOTORS, MARTENSVILLE SK - 104
MERLIN FORD LINCOLN, SASKATOON SK -11
MERRITT FORD, CARLYSLE SK - 1
MICHEN ENTERPRISES, CALGARY AB - 67
MID CITY AUTO, SASKATOON SK - 2
NELSON CHRYSLER, NELSON BC - 4
NELSON FORD, NELSON BC - 6
NELSON GM, ASSINIBOIA SK - 6
NEW HORIZON, TORONTO ONTARIO - 6
NORTH BATTLEFORD HYUNDAI, NORTH BATTLEFORD SK - 48
NORTHERN AUTO EXHCANGE, KELOWNA BC - 1
NORTHLAND FORD, FLIN FLON MB - 2
NORTHSTAR HYUNDAI, EDMONTON AB - 2
NOVLAN BROS FORD, PARADISE HILL SK - 11
O'BRIANS SALES & LEASING, SASKATOON SK - 20
PERFECTION, WASHINGTON - 15
PLATINUM AUTO, SASKATOON SK - 2
QUILL PLAINS GM, WADENA SK - 43
RALLEYY AUTO MAX, PRINCE ALBERT SK - 9
RANJOY, WINNIPEG MB - 67
REGAL MOTORS, OUTLOOK SK - 23
REGAL MOTORS, ROSETOWN SK - 11
RHINELAND CAR CO, ALTONA MB - 11
RIDE MORE AUTO, MORRIS MB - 1
RIVER CITY FORD, WINNIPEG MB - 1
ROADWAY AUTO, REGINA SK - 2
ROBLIN FORD, ROBLIN MB - 1
ROB ROY TRADING, SASKATOON SK - 11
RMP, REGINA SK - 46
SASKATOON HYUNDAI SOUTH, SASKATOON SK - 11
SASKATOON TRUCK CENTER, SASKATOON SK - 5
SCOTT CAMPBELL DODGE, NORTH BATTLEFORD SK - 2
SENCHUCK FORD, ESTEVAN SK - 8
SHERWOOD CHEV, SASKATOON SK - 75
SILVER SAGE GM, SHAUNOVAN SK - 14
SLAVE LAKE CHRYSLER, SLAVE LAKE AB - 26
SMITH & HUGHES, WINNIPEG MB - 69
SMP, SASKATOON SK - 59
SMYL GM, ST PAUL AB - 1
SOUTH 20 DODGE, HUMBOLDT SK - 6
SOUTH GATE AUDI, EDMONTON AB - 2
SOUTH TRAIL KIA, CALGARY AB - 3
SPYDER AUTO, BIGGAR SK - 1
STATUS AUTO, CHILLIWACK BC - 24
STANDARD MOTORS, SWIFT CURRENT SK - 4
TAYLOR AUDI, REGINA SK - 18
TAYLOR VW, REGINA SK - 5
THOMAS MOTORS, MELFORT SK - 1
UNITY MOTORS PRODUCT, UNITY SK - 3
URBAN FORD, OTTAWA ON - 1
VERMILLION CHRYSLER, VERMILLION AB - 5
VICTORY AUTO, DAUPHIN MB - 1
VALLEY FORD, HAGUE SK - 15
VILLAGE AUTO, SASKATOON SK - 2
VW SASKATOON, SASKATOON SK - 16
WEST CASTLE MOTORS GM, PINCHER CREEK AB - 10
WHEAT COUNTRY MOTORS, REGINA SK - 7
WHEATON GM, EDMONTON AB - 7
WHEATON GM, SASKATOON SK - 9
WHITECAP MOTORS, SLAVE LAKE AB - 4
WILSON WHEELS, MINNEDOSA MB - 18
WTH, CALGARY AB - 191
ZIMMER WHEATON GM, KAMLOOPS BC - 2